Private WhatsApp numbers, groups are being exposed on Google
WhatsApp and Google take a lot of pride in their security standards.
However, once again, the two internet giants have been embroiled in a matter that raises questions over the privacy of millions of people.
To be specific, a recent report says thousands of private WhatsApp groups are being exposed through Google search.
Here's all you need to know about it.
Isse
Group invite links indexed by Google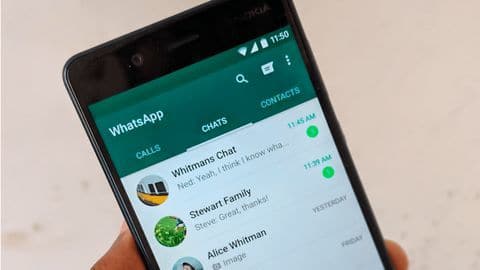 Just recently, DW journalist Jordan Wildon reported on Twitter that WhatsApp group invitations, many of which are supposed to be private, are being indexed by Google.
He found that the links generated through the 'Invite to group via link' feature of the messaging service are being indexed, immediately making those groups – and their chats, member phone numbers – available and discoverable online.
Details
Groups related to child porn, Illuminati, jobs, and more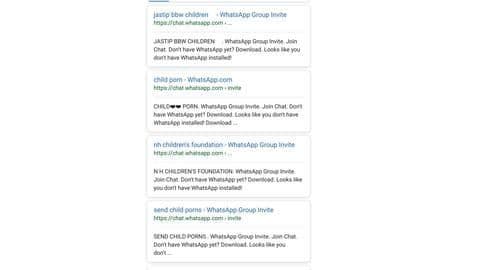 Wildon, who stumbled upon this issue accidentally, was able to use a number of random search terms to find invite links to anti-government WhatsApp groups as well as those involved in sharing child porn, adult content.
The scale of this problem was such that popular reverse engineer Jane Manchun Wong was able to unearth about 470,000 results for 'chat.whatsapp.com' group invite URLs.
Twitter Post
Here is Wildon's Twitter report
Cause
Links being shared in public domain is the main issue
While the issue is concerning and can compromise anyone's private name, number, and chats on a particular topic, it is not a product bug.
These links being indexed are only those that are shared outside of WhatsApp, in the public domain.
This basically means if your group's invitation link has been shared publicly, it may have been indexed by Google by now.
Responses
WhatsApp says it's not their fault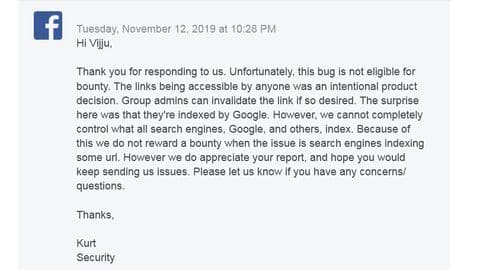 When the issue surfaced, WhatsApp's parent company Facebook responded by saying that making group links accessible to anyone was an intentional product decision – and the problem is of those links being indexed by Google which they cannot control.
"Like all content that is shared in…public channels, invite links posted publicly on the internet can be found by other WhatsApp users," the company clarified.
Explanation
Google also had a similar opinion
Similarly, Danny Sullivan, Google's public liaison for search, shielded his company by saying that "search engines like Google & others list pages from the open web. That's what's happening here. It's no different than any case where a site allows URLs to be publicly listed."
Source:- newsbytesapp
Share: